Sprint 88 Release Notes
November Release
Overview:
The November Release went live on November 9th. This development sprint focused on enhancements to Action Center, State Bills & Votes and the introduction of a dedicated Aristotle 360 version for Canada.
Action Center
Enhanced Confirmation Page
We know Advocacy professionals are looking for additional ways to encourage their advocates to participate in their alerts. We have introduced new functionality where an advocate can take additional actions on an alert from the confirmation page. For Example: If an advocate sends an email to a legislator; they will have the ability to send a Twitter Advocacy message from the confirmation page.
Green Check – Indicates action has been taken on Legislator via contact method illustrated by icon at top of column.

Gray Icon - Indicates no more action are available via contact method

Blue Icon – Advocate may take further action by clicking available icon to open related delivery option. Example above indicates Phone and Twitter are available to contact Legislators on current alert

Advocate may click Blue Icon to be directed to the take action workflow for that method.

Additionally – If a user, by way of example, only sent one email out of the two available Legislators, the Blue Email Icon will remain available. And only a single Green Check icon would be displayed.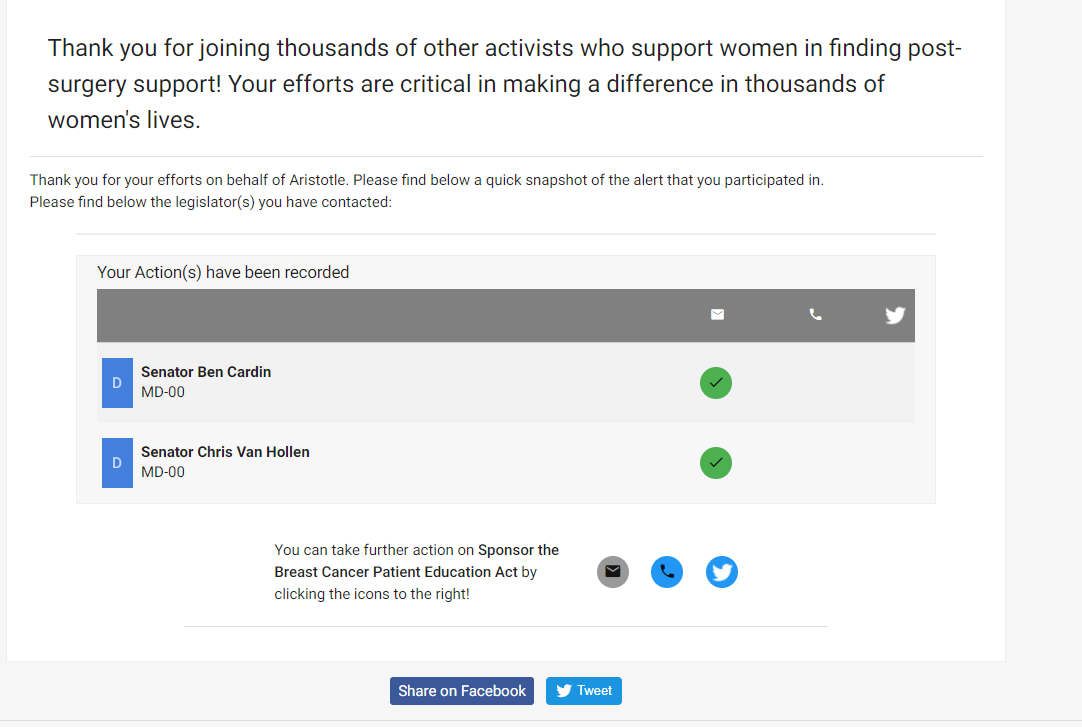 Custom Signature Support
We have received feedback from our users that they would like their advocates to always have the ability to customize their signatures. We have seen particular interest on behalf of organizations advocating for patients and professional organizations.
Custom Signature – Set as always editable by your advocates

Added to User Interface green "Editable" tag to make clear user can impact signature.

Formal Close / Sincerely Displayed – To help advocates visualize letter we have highlighted "Sincerely" as present and non-editable.
Bills & Votes Enhancement
A new feature is the ability to track State Bills & Vote in Aristotle 360. To add greater utility to our customers, you may add the organization's position on the Bills and Votes, and custom comments to highlight why they are important to your members and indicate Key Vote status.
This release will support State Legislator Ratings based on Key state Votes, within the new My Legislator section on the Action Center. State Vote position and the Legislator's vote will be used to calculate a Lifetime Legislator Rating that will display on the Legislator's Record and The My Legislator section on the Action Center.
State Bill &Vote Tracking

– We have integrated a data call between Aristotle 360 and the

OpenStates Project

. Open States provides access to State Bills & Votes data under their

Creative Commons Attribution License

. We have taken their data and integrated it within the Aristotle360 data structure. We provide this data as part of our Bills and Vote service though no additional fees are required for the State Bill and Vote data integration.

Show Cosponsors and Votes within Bills and Votes Section

Show Bill Sponsor status within State Legislator page

Show Votes within State Legislator Page

Support Legislator Lifetime Rating to State Legislator Entity Page

Integrate State Legislators within the My Legislators page in Aristotle Advocacy Center
State Legislator Lifetime Rating
Based on tracked Votes, marked as a Key Vote, Aristotle 360 will automatically calculate a Legislator Lifetime Rating within the Legislator entity page and on the My Legislator page, if so desired, found on the Action Center. The rating is calculated on how a legislator votes compares to your organization's Position (See above). When "Key Vote" is selected, the vote will be used to calculate Lifetime Rating based on how the legislator vote aligns to your position.
Calculation:
A Vote (Yea/Nay) will be included in the Legislator Lifetime Rating calculation

A Missed Vote, Not Voting, Other etc. will not count for our against a Legislator Lifetime rating

If no Key Vote have been calculated against a Legislator his/her Lifetime Rating will show "N/A".

Custom Lifetime Ratings (calculations) are not currently supported but is currently being discussed as a future enhancement.
My Legislator Page – State Legislators
A new section that may be published on the Aristotle Action Center is a page called "My Legislator". This functionality will add a new section to the Aristotle Action Center displaying your advocate's Legislators.
The Page will list in card form all State legislators associated with the advocates home and business address. An advocate may click on a card to open a detailed page that shows the following.
My Legislator Page Details:
Card

Legislator Photo

Legislator Name

State and District

Lifetime Rating –

N/A - Indicates no Key Vote taken and/or rating is not available

0 – Indicates Legislator has voted against your position on ALL available key votes

Detailed Record

Legislator Photo

Title

External Social Media Links

Committee Assignments

Key Votes – Coming Soon!

Date of Vote

Custom Vote Name

Custom Vote Comments

Our Position (Organization's Position)

Rep's Position (in relationship to Organization Position)

Enabling My Legislators Page

Go to Settings -> Action Center Settings -> Check box for "My Legislators".
If My Legislator tab does not appear clear cache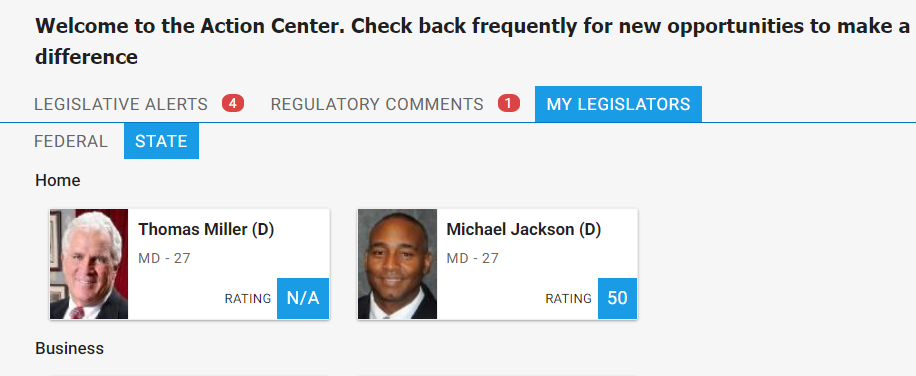 Aristotle 360 Canada
Aristotle is pleased to extend to Canadian Advocacy Professionals the same great functionality our US clients enjoy. This will be a multi-Sprint effort but we have made tremendous progress in supporting Parliamentary Advocacy capabilities within 360. Some of the functionality included in this development include:
Canadian Legislator Matching
Serialize appropriate Localization based on User Login – Provides Aristotle 360 to manage appropriate US or Canadian experience and localization based on User Credentials.
Postal Code to District Matching for Canada -The most important foundation for supporting parliamentary advocacy is matching advocates to their Legislators.
Canadian Legislator Database – Add Canadian Legislator Database to Aristotle 360 Canada database.
Canadian Address Correction and Standardization – To insure accurate legislator matching we support Canadian Address Correction
Aristotle Advocacy Canada
To support Canadian Advocacy users, modifications where made to the Advocacy Administration Wizard and Action Center.
Action Center Admin Wizard

Eliminate Issue Categorization – No concept of Webform Issues present in Canada

Jurisdiction Localization –Show Federal and Provincial targeting values

Support Canadian Provinces

Committee and Bill Support is not present as targeting values at this time.

Aristotle Advocacy Canada – We have enhanced the Action Center to handle Canadian Addresses in the Registration and Login Page
Take Action on Alerts – Ability to send Alert emails to Canadian Legislators

All Standard Alert Functionality is enabled

Automatic Legislator Target Matching

Sample Message Presentation

Edit Sample Message based on controls defined in Admin section

Multiple Communications Capability

Custom Email Signature is Always On

Enhanced Confirmation Page

Confirmation Email(s) Sent to Advocate

Activity Capture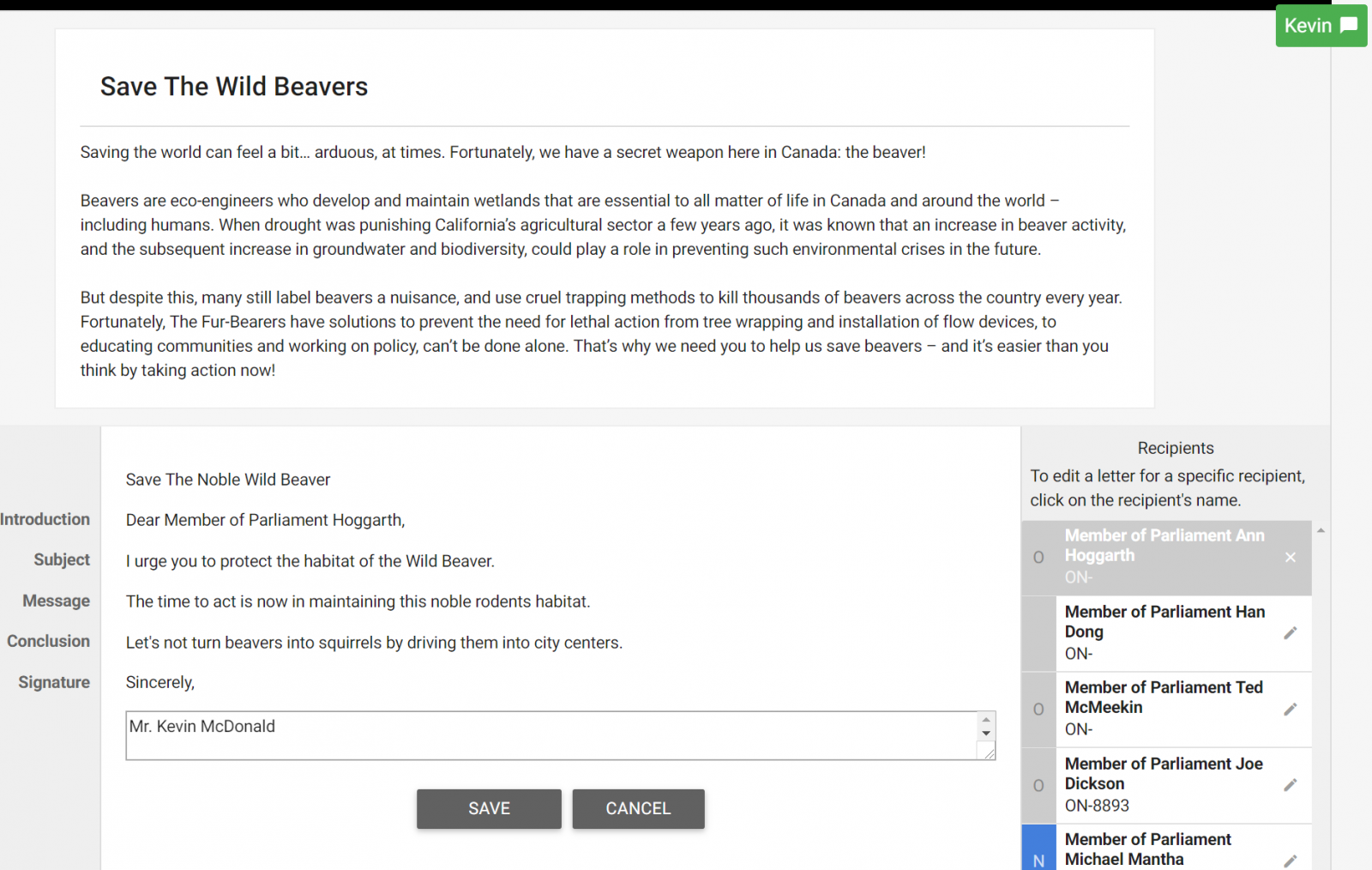 ​​​​​​​